This is super exciting to me!
I rent this house, and the colors of the accent walls they had are just plain ugly!
I already have re-done the LR/kitchen wall as posted prior and it has made the whole house feel bright and cheerful.
Now to attack this scary red wall in my master bedroom!
Now at first glance, it could be elegant and different.
But as time went on, it felt morbid, dark and sinister to me! Yeah, it's true!
Color can make all the difference!
Did you know sometimes you can have "ooops" paint tinted for you - for FREE?!
Yeah! Awesome!
So, I bought this hideous lime green ooops paint, and the sweet, cute hardware store guy (my bf) told me to pick out whatever color I wanted and he would fix it!
So, I picked Behr Yacht Harbor (PMD-14) and it was perfect!!!
No priming, one coat and it looks fantastic! On my way to that Beachy, cottage, shabby chic I've been working towards!
Don't mind the mess - life is crazy, and yeah, I squeeze in painting whenever I can.
Now, the room feels inviting, warm and fresh!
I even sleep better - I'm convinced the color change is the solution!
Most everything in my room has come from yard sales, Goodwill, or a gift.
I have big ideas in store for this sanctuary.
As usual, especially us females, tend to let the Master bedroom go until last, and most times I end up moving before being able to have it all pretty.
NOT this time!!
I am on my way to getting the look I want.
Lots of projects to come - painting, upholstering, sewing, decorating . . . keep an eye out, and I will share every step of the way!
Sharing at: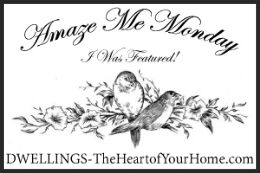 DIY Show off
Pin It Now!