Literally from Trash to Treasure!
These were being set out for trash and my son and I nabbed them!
Don't judge us!! HaHa!!
They were actually pretty beat up and had lots of yucky stuff spilled on them.
I scraped off the yuck, sanded them down a little, just to remove the shine.
I made up some Diy Chalk paint:
1 cup of oops paint
Little water mixed with 2 tbls unsanded white grout
Rolled & brushed 2 coats of paint.
Decided to try my hand at glazing, it was easy and worked great!
I wanted just a slightly distressed look.
The glaze I had purchased a while ago,
and decided to tint it with some of my acrylic grey paint.
Spread on glaze with a sponge brush,
wipe off a little with wet rag.
Then applied wax with a large stencil brush I scavenged out of my craft brushes.
Let set for minimum of 15 mins.
Buffed with a soft cloth.
Details of glazing
I'm really happy with how they turned out!
Behind the scenes:
Here is the 1st edition
I painted with my diy chalk paint
then stenciled the top
No distressing was done.
But I decided to distress them, and painted over the stencil, as it was pretty, but too femine for what I wanted, for these.
In the end, I really like them.
Spray painted the handles some black matte paint I had.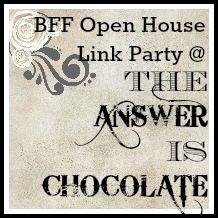 Sharing at these great parties!




Pin It Now!